Good habits
Good habits lead to good manners. Good manners give us good friends, good friends mean good environment, and good environment leads to a happy and peaceful life.
Habits are the continuous behavior of a person that develops over time and we don't even get to know when we acquire them.
Do's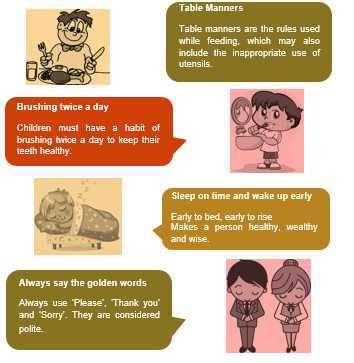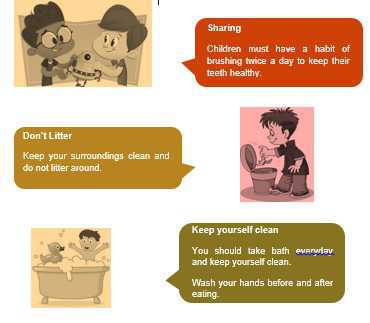 Don'ts
Do not bite your nails.

Do not put fingers in the mouth or nose.

Do not lie down while reading.

Do not put anything in your ears.

Do not rub your eyes with dirty hands.

Do not watch television too much.
Safety Rules
We should take care of the safety rules to avoid accidents. Accidents can take place anywhere while on road, at home and while swimming.
Some safety rules we should follow are given below
While on the road

Always walk on the footpath.

While crossing on the road, look right, then to your left. Finally, look to your right again. Cross only when the road is clear.

Cross the road only at the zebra crossing.

Never play on or near the road.

Follow traffic signals.

Do not get in or get off a moving bus. Wait till it stops completely.

Do not lean out or take out your hands from a window of a moving bus.

Reach the stop well before your school bus arrives.
At Home
Do not play with fire.

Do not play with sharp objects like knives or blades. They may hurt you.

Do not touch electric wires or switches with wet hands. You may get an electric shock.

Do not lean over a balcony railing.
While Swimming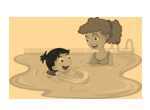 Do not go for swimming alone.
Do not go to the deep side of the swimming pool.
Answer the following
Write any four good habits.
Write any four bad habits.
What safety measures should be taken while on the road?
What safety measures should be taken at home?
Recap
Brush twice daily.
Do not litter.
Take bath daily.
Do not play with fire.
Follow the traffic rules.
Do not go for swimming alone.